The Marine Reserve of Miramare (Trieste-Ita)
MANAGEMENT Italian World Wildlife Fund (WWF Italia)
FOUNDING DECREE Inter-ministerial Decree 12.11.86 (G.U. n. 77 02.04.1987)
REGULATIONS Implementing Regulation and organization of the protected area DM 26.05.2009
INTERESTED CITIES Trieste
TOTAL AREA AND ZONING 30 ha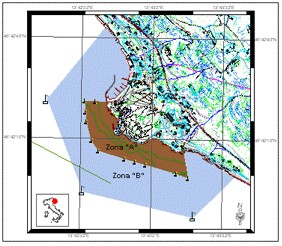 Zone A: It's prohibited the transit and anchoring.
It's prohibited to swim and the diving.
It's prohibited to professional and sport fishing or any form of taking.
It's prohibited placing of alien species and toxic substances.
It's prohibited to access to the beaches.
It's prohibited to remove underwater flora and fauna and coastal.
Zone B: Fishing is prohibited in any form with the exception of the sports activity carried on by land.
LOCATION The level of human presence at Miramare is extremely high in respect to other Mediterranean Reserves, much more isolated. In fact the promontory is placed between the touristic port of Grignano and Barcola seashore, the "beach" for the inhabitants of Trieste. The peculiar geomorphological characteristics of flora and fauna make Miramare a unique environment that alone can represent the peculiarities of the Gulf of Trieste. The Reserve reaches a maximum depth of 18 meters and presents several types of seabeds: going from the rocky habitat, near the coast, to the sandy and muddy ones, off the coast. The different habitats are characterised by high levels of biodiversity and are populated by a variety of animal and plant species of high conservation value. The area of Miramare represents most of the features and characteristics of the Gulf of Trieste.
MONITORING THE CHEMICAL AND PHYSICAL PARAMETERS Analysis of decades of salinity and temperature, study of currents dynamics in the Gulf of Trieste
MONITORING THE ECO-ETHOLOGICAL PARAMETERS Visual – Census, acoustic techniques
PROMOTION ACTIVITIES AULABLU Project
CONTACTS Riserva Naturale Marina di Miramare
Address: viale Miramare, 349 – 34014 Grignano (TS)
Phone: 040/224147
Fax: 040/224636
Email: info@riservamarinamiramare.it
Official site: www.riservamarinamiramare.it
What's your reaction?
0
Cool
0
Bad
0
Lol
0
Sad