Javna ustanova Kamenjak – Public Institution Kamenjak
PROTECTED AREAS
– Significant landscape Lower Kamenjak and Medulin Archipelago
– Significant landscape Upper Kamenjak
– Park forest Soline
– Park forest Kašteja
FOUNDING DECREE Act on proclaiming the protected areas (Istria Region, "Official Gazete" no 5 from 1996)
INTERESTED CITIES Medulin Municipality, City of Pula
TOTAL MANAGED AREA 821 ha
LOCATION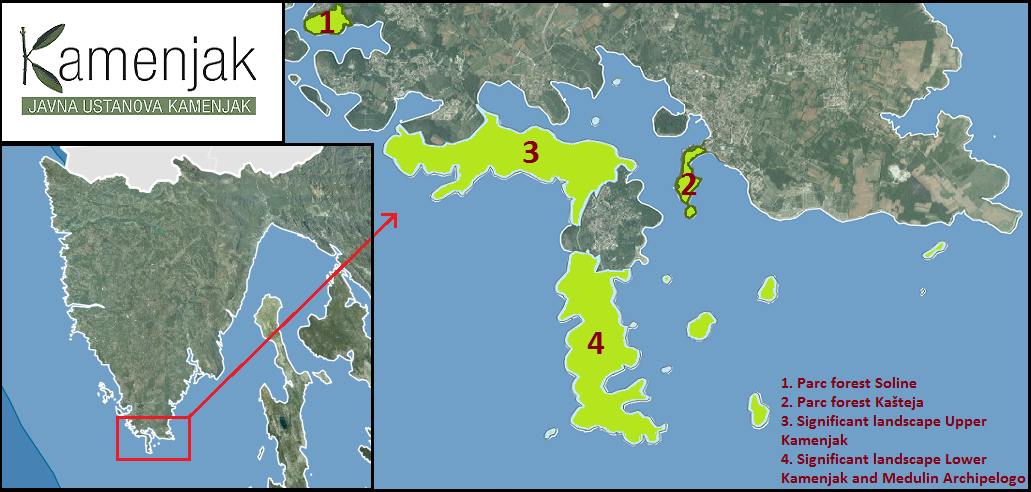 Significant landscape of Lower Kamenjak and the Medulin Archipelago
The Kamenjak peninsula is located in the southernmost part of Istria. It is an area of 375 ha and it encompasses the peninsula with 11 uninhabited islands. The extremely specific and valuable landscape of Kamenjak is a combination of forests, grasslands, garrigue, maquis and rocky ground. The semi natural dry grasslands are Natura 2000 habitats and the Public Institution, with local farmers, conduct sheep and cattle grazing, thus contributing to the conservation of biodiversity. Kamenjak is one of the rare habitats of endangered and protected species such as least adder's tongue (Ophioglossum lusitanicum), goldie (Achillea tomentosa) and the only known site in Croatia of extremely rare and endangered yellow centaury (Cicendia filiformis). The area is a major touristic attraction.
Significant landscape of Upper Kamenjak
Upper Kamenjak has a surface of 380 ha and it is an extremely valuable floristic area. Namely, there are 487 different species of plants. In 2012, in the area of Upper Kamenjak, for the first time Catapodium pauciflorum, an annual grass species, was included in the Croatian flora. The remains of the Austro-Hungarian military facilities have become a shelter for the most important maternity colony of bats in the southern part of Istria with 7 different species. The area is ideal for walking, cycling and outdoor recreation.
Park forest Soline
Extremely dense maquis of holm oak, partly developed into a forest, make this forest park one of the last preserved holm oak forests in the area. In Soline there is an educational path with educational tables, and it passes through the maquis that has been created by century-long exploitation of these forests as well as by the preserved holm oak forests.
Park forest Kašteja
The area is covered in Aleppo pines (Pinus halepensis) and black pines (Pinus nigra), which provide special visual and microclimatic values in the area of the Medulin Municipality. It is an ideal area for walking and spending time outdoors.
CONTACTS Public Institution "Kamenjak"
Address: Selo 120, HR-52100 Premantura
Phone: + 385-52-575 287,
+ 385-52-575 283
E-mail: info@kamenjak.hr
Website: www.kamenjak.hr
What's your reaction?
0
Cool
0
Bad
0
Lol
0
Sad