The project "AdriaPAN Secretariat"
A major objective for the implementation of the network and AdriaPAN been achieved thanks to the "AdriaPAN Secretariat" presented by AMP Tower of Cerrano, in collaboration with the AMP Miramare, within the call "2nd Call for Small Grant Projects for Mediter-ranean MPAs for 2012-2013 "sponsored by MedPAN and sponsored by Fonds Français pour l'Environnement Mondial, Prince Albert II of Monaco and the MAVA Foundation. The project "AdriaPAN Secretariat" was selected as the winning proposal among 52 competitors.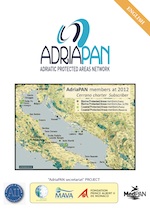 The project "AdriaPAN Secretariat" responds to the needs of an instrument of cross-border dialogue and cooperative as a means to foster practices to promote eco-nomic MPAs in the Adriatic. The project partners are the members of the AMP Card Cerrano – the network AdriaPAN – or acceding to it. The general objective is to acquire the knowledge and confidence of the leaders of the local AMP in this regional branch of the Mediterranean, providing services in favor of their marine protected areas and the local area. This will be possible through the construction of a common communication tool based on the web, dedicated to the general public, which will promote marine protected areas and their activities and will provide general services. The same web site will have to promote contacts between the leaders of AMP and staff – through limited access – in order to carry out joint projects and proposals in response to EU funding instruments on programs such as Interreg, IPA Adriatic, MED, Life + , South East Europe and others. The activities of the project "AdriaPAN Secretariat" have already started in summer 2012, as required by the project.
What's your reaction?
0
Cool
0
Bad
0
Lol
0
Sad